Nothing fancy here folks, just a little perspective.
David Ortiz had a crazy-good (Matsui-esque) World Series, taking MVP honors and his third title overall. His 1.948 OPS is 7th all-time and tops many legendary championship campaigns, such as Reggie Jackson's 4 HR in 4 straight appearances in 1977 (1.792 OPS for the series). Amazingly, both Babe Ruth (2.022) and Lou Gehrig (2.433!) posted higher numbers in 1928 (a Yankees sweep).
Of course, Papi has been instrumental in all three of Boston's post-Ruth championships, and his combined OPS of 1.372 is the highest for anyone with 50+ WS plate appearances:

By my reading, Ortiz fits clearly in an elite class of outliers that includes Bonds, Jackson, Gehrig and Ruth, though Ruth stands out the most. Note that this includes Ruth's first three WS appearances with Boston, when he was still a pitcher. I.e.:
Hmm: Mariano Rivera in NY: 1283.2 Innings Pitched, 2.21 ERA. Babe Ruth in Boston: 1190.1 IP, 2.19 ERA.

— Benjamin Morris (@skepticalsports) October 3, 2013
If we expand the purview to all postseason games, we see a considerable drop in Papi's OPS, though he still maintains an elite position overall: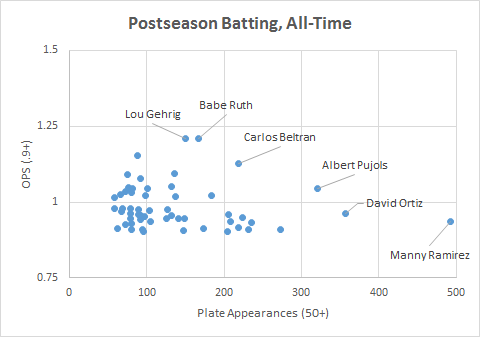 Of course there is no change for Ruth and Gehrig, since there were no divisional rounds when they played (though we wouldn't expect too much of a drop for them anyway, since their playoff OPS aren't substantial deviations from the rest of their careers). Otherwise, the outlier curve is dominated by the big names of the modern era, with Papi comfortably nestled in the middle.