For reasons which should become obvious shortly, I've split Part 1 of this series into sub-parts. This section will focus on rating Rodman's accomplishments as a rebounder (in painstaking detail), while the next section(s) will deal with the counterarguments I mentioned in my original outline.
For the uninitiated, the main stat I will be using for this analysis is "rebound rate," or "rebound percentage," which represents the percentage of available rebounds that the player grabbed while he was on the floor.  Obviously, because there are 10 players on the floor for any given rebound, the league average is 10%.  The defensive team typically grabs 70-75% of rebounds overall, meaning the average rates for offensive and defensive rebounds are approximately 5% and 15% respectively.  This stat is a much better indicator of rebounding skill than rebounds per game, which is highly sensitive to factors like minutes played, possessions per game, and team shooting and shooting defense.  Unlike many other "advanced" stats out there, it also makes perfect sense intuitively (indeed, I think the only thing stopping it from going completely mainstream is that the presently available data can technically only provide highly accurate "estimates" for this stat.  When historical play-by-play data becomes more widespread, I predict this will become a much more popular metric).
Dennis Rodman has dominated this stat like few players have dominated any stat.  For overall rebound % by season, not only does he hold the career record, he led the league 8 times, and holds the top 7 spots on the all-time list (red bars are Rodman):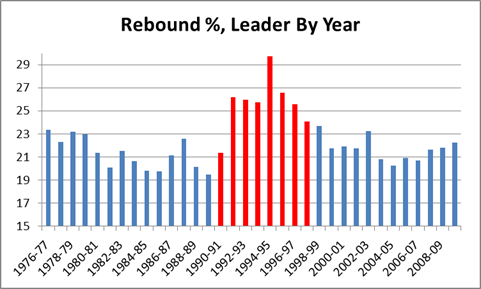 Note this chart only goes back as far as the NBA/ABA merger in 1976, but going back further makes no difference for the purposes of this argument.  As I will explain in my discussion of the "Wilt Chamberlain and Bill Russell Were Rebounding Gods" myth, the rebounding rates for the best rebounders tend to get worse as you go back in time, especially before Moses Malone.
As visually impressive as that chart may seem, it is only the beginning of the story.  Obviously we can see that the Rodman-era tower is the tallest in the skyline, but our frame of reference is still arbitrary: e.g., if the bottom of the chart started at 19 instead of 15, his numbers would look even more impressive.  So one thing we can do to eliminate bias is put the average in the middle, and count percentage points above or below, like so: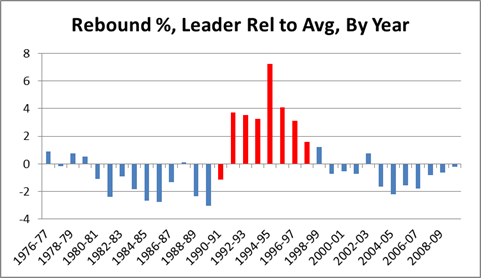 With this we get a better visual sense of the relative greatness of each season.  But we're still left with percentage points as our unit of measurement, which is also arbitrary: e.g., how much better is "6%" better?  To answer this question, in addition to the average, we need to calculate the standard deviation of the sample (if you're normally not comfortable working with standard deviations, just think of them as standardized units of measurement that can be used to compare stats of different types, such as shooting percentages against points per game).  Then we re-do the graph using standard deviations above or below the mean, like so: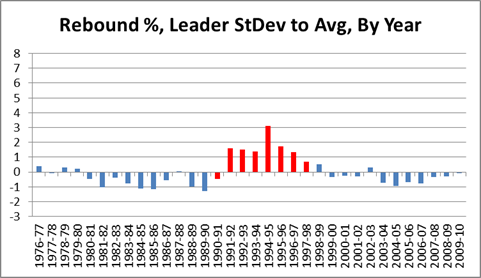 Note this graph is actually exactly the same shape as the one above, it's just compressed to fit on a scale from –3 to +8 for easy comparison with subsequent graphs.  The SD for this graph is 2.35%.
There is one further, major, problem with our graph: As strange as it may sound, Dennis Rodman's own stats are skewing the data in a way that biases the comparison against him.  Specifically, with the mean and standard deviation set where they are, Rodman is being compared to himself as well as to others.  E.g., notice that most of the blue bars in the graph are below the average line: this is because the average includes Rodman.  For most purposes, this bias doesn't matter much, but Rodman is so dominant that he raises the league average by over a percent, and he is such an outlier that he alone nearly doubles the standard deviation.  Thus, for the remaining graphs targeting individual players, I've calculated the average and standard deviations for the samples from the other players only: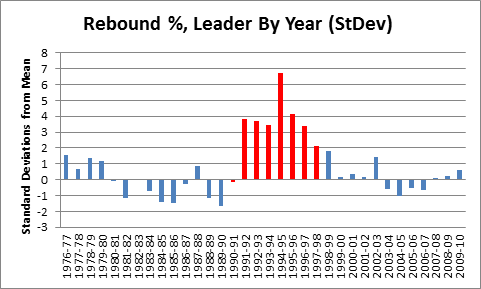 Note that a negative number in this graph is not exactly a bad thing: that person still led the league in rebounding % that year.  The SD for this graph is 1.22%.
But not all rebounding is created equal: Despite the fact that they get lumped together in both conventional rebounding averages and in player efficiency ratings, offensive rebounding is worth considerably more than defensive rebounding.  From a team perspective, there is not much difference (although not necessarily *no* difference – I suspect, though I haven't yet proved, that possessions beginning with offensive rebounds have higher expected values than those beginning with defensive rebounds), but from an individual perspective, the difference is huge.  This is because of what I call "duplicability": simply put, if you failed to get a defensive rebound, there's a good chance that your team would have gotten it anyway.  Conversely, if you failed to get an offensive rebound, the chances of your team having gotten it anyway are fairly small.  This effect can be very crudely approximated by taking the league averages for offensive and defensive rebounding, multiplying by .8, and subtracting from 1.  The .8 comes from there being 4 other players on your team, and the subtraction from 1 gives you the value added for each rebound: The league averages are typically around 25% and 75%, so, very crudely, you should expect your team to get around 20% of the offensive and 60% of the defensive rebounds that you don't.  Thus, each offensive rebound is adding about .8 rebounds to your team's total, and each defensive rebound is adding about .4.  There are various factors that can affect the exact values one way or the other, but on balance I think it is fair to assume that offensive rebounds are about twice as valuable overall.
To that end, I calculated an adjusted rebounding % for every player since 1976 using the formula (2ORB% + DRB%)/3, and then ran it through all of the same steps as above: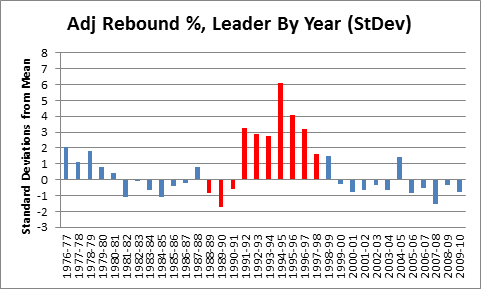 Mindblowing, really.  But before putting this graph in context, a quick mathematical aside:  If these outcomes were normally distributed, a 6 standard deviation event like Rodman's 1994-1995 season would theoretically happen only about once every billion seasons.  But because each data point on this chart actually represents a maximum of a large sample of (mostly) normally distributed seasonal rebounding rates, they should instead be governed by the Gumbel distribution for extreme values: this leads to a much more manageable expected frequency of approximately once every 400 years (of course, that pertains to the odds of someone like Rodman coming along in the first place; now that we've had Rodman, the odds of another one showing up are substantially higher).  In reality, there are so many variables at play from era to era, season to season, or even team to team, that a probability model probably doesn't tell us as much as we would like (also, though standard deviations converge fairly quickly, the sample size is relatively modest).
Rather than asking how abstractly probable or improbable Rodman's accomplishments were, it may be easier to get a sense of his rebounding skill by comparing this result to results of the same process for other statistics.  To start with, note that weighting the offensive rebounding more heavily cuts both ways for Rodman: after the adjustment, he only holds the top 6 spots in NBA history, rather than the top 7.  On the other hand, he led the league in this category 10 times instead of 8, which is perfect for comparing him to another NBA player who led a major statistical category 10 times — Michael Jordan: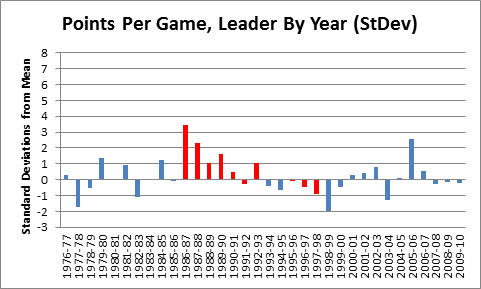 Red bars are Jordan.  Mean and standard deviation are calculated from 1976, excluding MJ, as with Rodman above.
As you can see, the data suggests that Rodman was a better rebounder than Jordan was a scorer.  Of course, points per game isn't a rate stat, and probably isn't as reliable as rebounding %, but that cuts in Rodman's favor.  Points per game should be more susceptible to varying circumstances that lead to extreme values.  Compare, say, to a much more stable stat, Hollinger's player efficiency rating: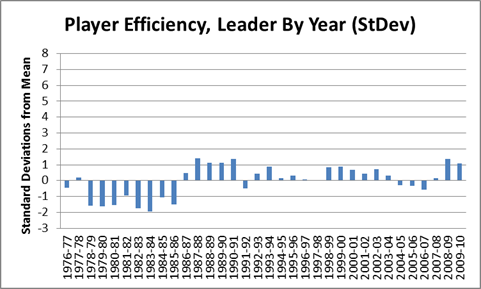 Actually, it is hard to find any significant stat where someone has dominated as thoroughly as Rodman.  One of the closest I could find is John Stockton and the extremely obscure "Assist %" stat: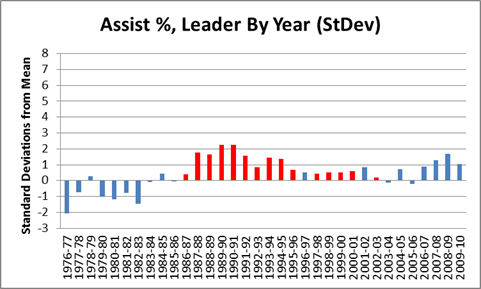 Red bars are Stockton, mean and SD are calculated from the rest.
Stockton amazingly led the league in this category 15 times, though he didn't dominate individual seasons to the extent that Rodman did.  This stat is also somewhat difficult to "detangle" (another term/concept I will use frequently on this blog), since assists always involve more than one player.  Regardless, though, this graph is the main reason John Stockton is (rightfully) in the Hall of Fame today.  Hmm…