Andres Alvarez (@NerdNumbers) tweeted the other day: "Opinion question. Does getting the #1 Pick in the Draft Lottery really up your odds at a title?"  To which I responded, "Yes, and it's not close."
If you've read my "How to Win a Championship in Any Sport," you can probably guess why I would say that.  The reasoning is pretty simple:
In any salary-capped sport, the key to building a championship contender is to maximize surplus value by underpaying your team as much as possible.
The NBA is dominated by a handful of super-star players who get paid the same amount as regular-star players.
Thus, the easiest way to get massive surplus value in the NBA is to get one or more of those players on your team, by any means necessary.
Not only is the draft a great place to find potentially great players, but because of the ridiculously low rookie pay scale, your benefit to finding one is even greater.
Superstars don't grown on trees, and drafting #1 ensures you will get the player that you believe is most likely to become one.
I could leave it at that, as it's almost necessarily true that drafting #1 will improve your chances.  But I suppose what people really want to know is how much does it "up your odds"?  To answer that, we also need to look at the empirical question of how valuable the "most likely to be a superstar" actually is.
Yes, #1 picks often bust out.  Yes, many great players are found in the other 59+ picks.  But it utterly confounds me why so many people seem to think that proving variance in outcomes means we shouldn't pay attention to distribution of outcomes. [Side-note: It also bugs me that people think that because teams "get it wrong" so often, it must mean that NBA front offices are terrible at evaluating talent. This is logically false: maybe basketball talent is just extremely hard to evaluate!  If so, an incredible scouting department might be one that estimates an individual player's value with slightly smaller error margins than everyone else—just as a roulette player who could guess the next number just 5% of the time could easily get rich. But I digress.]
So, on average, how much better are #1 draft picks than other high draft picks?  Let's take a look at some data going back to 1969: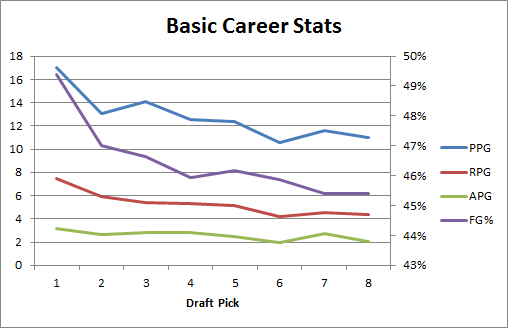 Ok, so #1 picks are, on average, a lot better than #2 picks, and it flattens out a bit from there.  For these purposes, I don't think it's necessary, but you can mess around with all the advanced stats and you'll find pretty much the same thing (see, e.g., this old Arturo post). [Also, I won't get into it here, but the flattening is important in its own right, as it tends to imply a non-linear talent distribution, which is consistent with my hypothesis that, unlike many other sports, basketball is dominated by extreme forces rather than small accumulated edges.]
So, a few extra points (or WPA's, or WoW's, or whatevers) here or there, what about championships?  And, specifically, what about championships a player wins for his drafting team?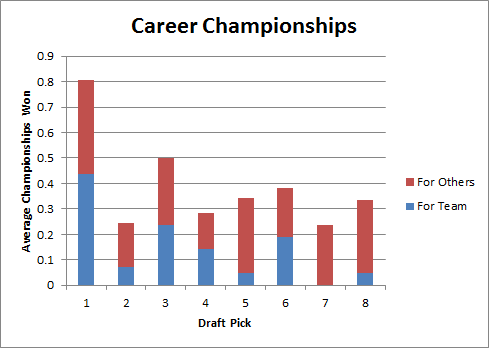 Actually, this even surprised me: Knowing that Michael Jordan won 6 championships for his drafting team, I thought for sure the spike on pick 3 would be an issue.  But it turns out that the top picks still come out easily on top (and, again, the distribution among the rest is comparatively flat).  Also, it may not be obvious from that graph, but a higher proportion of their championships have gone to the teams that draft them as well.  So to recap (and add a little):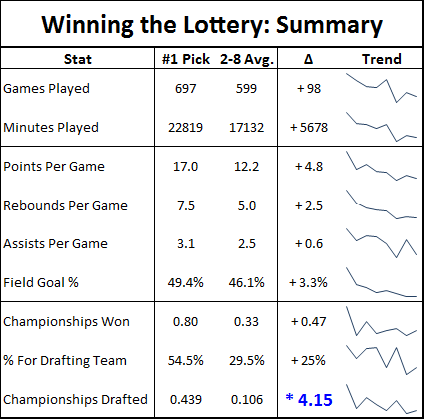 The bottom line is, at least over the last 40ish years, having the #1 pick in the draft was worth approximately four times as many championships as having a 2 through 8.  I would say that qualifies as "upping your odds."