[Preface: With apologies to people those of you who sat through or otherwise already read my NFL Live Blog from Sunday, it is incredibly long, so I thought maybe I should split out individual posts for some of the individual topics I covered.  I've removed the time-stamps and re-organized a bit, but this is all original, so it obviously may not be as clean or detailed as a regular article (any additional comments I'll put in brackets or at the end).  If this sort of stuff interests you, I will be live-blogging again this Sunday.]
On Moneyball:
True story: Yesterday, my wife needed a T-shirt, and ended up borrowing my souvenir shirt from SSAC (MIT/Sloan Sports Analytics Conference). She was still wearing it when we went to see Moneyball last night, and, sure enough, she ended up liking it (nerd!) and I thought it was pretty dull.
Nit-picking: The Athletics won their last game of the season in 2004, 2005, 2007, and 2010. (It's not that hard when you don't make the playoffs). [If you haven't seen it, a major theme in the whole affair is how Billy Beane really wants to win the last game of the season.]
Really Moneyball is all about money, not statistics. Belichick would be such a better subject for a sports-analytics movie than Billy Beane.  It's dramatic how Belichick has been willing to do whatever it takes to win—whether it be breaking the rules or breaking with convention—plus, you know, with more success.
On Advanced NFL Stats' WPA Calculator:
I haven't really used Advanced NFL Stats WPA Calculator much, as I've been (very slowly) trying to build my own model.  But I just noticed it doesn't take time outs into account.  I'm curious whether that's the same for his internal model or if that's just the calculator.  Obv timeouts make a huge difference in endgame or even end-half scenarios (and accounting for them properly is one of the toughest things to figure out).
[This came up in the Pitt/Indy game, I believe on the play where Roethlisburger scrambled for a 1st down in Indy territory.] Oooh, depending on the time out situation, that might have been a spot where dropping just short of the first down would have been better than making it.  Too bad Burke's WPA Calculator doesn't factor in time outs!
On Andy Reid:
So Both Donovan McNabb and Michael Vick have been considerably better QB's in Philadelphia than elsewhere.  At some point, does Andy Reid get some credit?  Without a Super Bowl ring, he's generally respected but not revered in the mainstream, and he's such a poor tactician that he's dismissed by most analytics types.  But he may be one of the best offensive schemers in the modern era.
[David Meyers asked what I meant by "poor tactician"]: I just mean that he has notoriously bad time management skills, makes ridiculous 4th down decisions, and generally seems clueless about win maximization, esp. in end-game scenarios.
On Michael Vick:
I kind of feel the same way about Vick that I felt about Stephen Strasbourg after he hurt his arm last year: their physical skills are so unprecedented that, unfortunately, Bayesian inference suggests that their injury-proneness isn't a coincidence.
So if the Eagles go on to lose, does this make Vick 1-0 with 2 "no decisions" for the year?
On Cam Newton:
Watching pre-game.  Strahan is taking "overreaction" to a new level, not only declaring that maybe the NFL isn't even ready for Cam Newton, but that this has taught him to stop being critical of rookie QB's in the future.
So should I be more or less excited about Cam Newton after his win today?  He had a much more "rookie-like" box of 18/34 for 158.  Here's how to break that down for rookies: Low yards = bad. High attempts = good.  Completion percentage = completely irrelevant. Win = Highly predictive of length of career, not particularly predictive of quality (likely b/c a winning rookie season gets you a lot of mileage whether you're actually good or not). Oh, and he's still tall:  Height is also a significant indicator (all else being equal).
On Breakouts:
I remember Mike Wallace being a valuable backup on my fantasy team in 2009, otherwise, meh.  Seems to talk a lot of crap that these announcers eat up.  Ironically, though, if a rookie or a complete unknown starts a season super-hot, commentary is usually that they're already the next big thing, while a quality-but-not-superstar veteran with a hot start is often just credited with a hot start.  But, in reality, I think the vet, despite being more of a known quantity, is still more likely to take off.  In this case, they're busting out the hyperbole regardless.
Speaking of which, does anyone remember Ryan Moats?  A stringer for Houston in 2009, he ended up starting (briefly) after a rash of injuries to his teammates. In his first start (against Buffalo), he had 150 yards and 3 touchdowns, and some fantasy contestants were falling over each other to pick him up.  After that, he had 2 touchdowns the rest of the season, and then was out of football.
On Troy Polamalu:
Polamalu to the rescue, of course.  He's so good that I think he improves the Steeler's offense.  (And no, not kidding.)
On Skeptical Sports Analysis:
Google Search Leading to My Blog of the Day: "what sport does dennis rodman play"
Shout-out to Matt Glassman for plugging my live blog on his:
One look at his blog will convince you that he's not only a killer sports statistician, but he's also an engaging and humorous writer.
Though, at best, this generous praise is a game of "Two Truths and a Lie." (I'm not even remotely a statistician.)
If I were more clever, I'd think of some riff off the Jay-Z's 99 problems line:
Nah, I ain't pass the bar but i know a little bit

Enough that you won't illegally search my shit
Incidentally, love the Rap Genius annotation for that lyric (also apt to my situation):
If you represent yourself (pro se), Bar admission is not required, actually
On Kerry Collins:
So I always think of Kerry Collins as a pretty bad QB, but damn: he's the last man standing from the entire 1995 draft: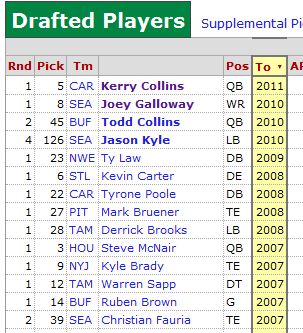 And, you know, he's not dead.  So I guess he won that rivalry.