[For ease of reference—with apologies to those of you who sat through or otherwise already read my NFL Live Blog from this Sunday—I'm once again splitting a few of the topics I covered out into individual posts. I've made mostly made only cosmetic adjustments (additional comments are in brackets or at the end), so apologies if these posts aren't quite as clean or detailed as a regular article. For flavor and context, I still recommend reading the whole thing.]
[This is sort of following up on last week's live blog, where I discussed Cam Newton's hot start a little, so I'll include that snip first.]
Last Week, On Cam Newton:
Watching pre-game.  Strahan is taking "overreaction" to a new level, not only declaring that maybe the NFL isn't even ready for Cam Newton, but that this has taught him to stop being critical of rookie QB's in the future.
But should I be more or less excited about Cam Newton after his win today?  He had a much more "rookie-like" box of 18/34 for 158.  Here's how to break that down for rookies: Low yards = bad. High attempts = good.  Completion percentage = completely irrelevant. Win = Highly predictive of length of career, not particularly predictive of quality (likely b/c a winning rookie season gets you a lot of mileage whether you're actually good or not). Oh, and he's still tall:  Height is also a significant indicator (all else being equal).
This week:
Google search that just led to the blog: "should I start Michael Vick over Cam Newton today."  Welcome, fantasy footballer!  And sorry, I have no idea.  I don't play fantasy football anymore: it's pleasantly time consuming and has near-infinite depths for analysis, but the overlap with analysis of things that matter is way too small. [This was a bit harshly put, but I mean something serious: I'm increasingly convinced that NFL box score accomplishments have little relation to actual player values].
Here's rookie QB's YPG over their first 3 starts [actually, it's games played, not started—my bad] vs. their YPG for the rest of the season (min 8 starts total):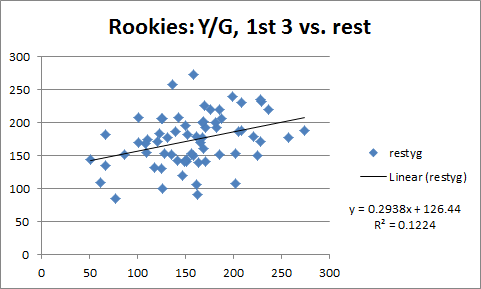 And here's the table of rookies through Dan Marino (who I thought would have been higher):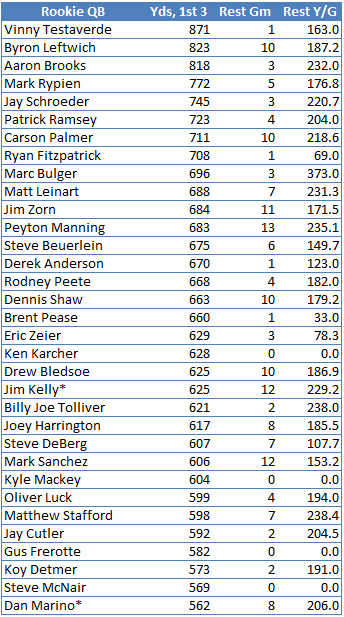 Cam Newton, of course, has 1012 through his first 3.  And in game 4 he has already passed Vinny Testaverde's production for the rest of his rookie season.
[At the conclusion of the game] Newton now has 1386 yards, which is the record for a rookie through his first four games (previously held by Marc Bulger with 1149).  The record through five is 1496, so he's likely to break that.  Through six is 1815, so that's not a sure thing, but through seven is also 1815 (Bulger only played 6 games, and the next highest total through seven is 1699).  But there's still a lot of variance to be navigated between now and [Peyton] Manning's full-season record of 3739.