[Preface: With apologies to people those of you who sat through or otherwise already read my NFL Live Blog from Sunday, it is incredibly long, so I thought maybe I should split out individual posts for some of the individual topics I covered.  I've removed the time-stamps and re-organized a bit, but this is all original, so it obviously may not be as clean or detailed as a regular article (any additional comments I'll put in brackets or at the end).  If this sort of stuff interests you, I will be live-blogging again this Sunday.]
Aaron Schatz tweeted:
Bills go for it on fourth-and-14 from NE 35… and Fitzpatrick throws his second pick (first that is his fault)
4th and 14 is a situation where I think more quarterbacks throw too few interceptions than throw too many.
[As you can note from this post, an issue I'm very interested in is how to judge interceptions more fairly.  As I said in the comments, "I'm conceptually drawn to the similarity between the stigma against interceptions and the stigma against going for it on 4th down."  E.g., a coach who played optimal 4th down strategy would easily lead the league in 4th down turnovers.]
Though, I have to admit, Aaron Rodgers is a great QB who seems to defy my "Show me a QB who doesn't throw interceptions, and I'll show you a sucky quarterback" rule of thumb.  And it's not like Tom Brady, who throws INT's when his team is struggling and doesn't throw them when his team is awesome (which, ofc, I have NO problem with): Rodgers has a crazy-low INT rate on a team that has been mediocre (2008), good-but-not-great (2009), or all over the place (2010) during his 3 years as a starter.
Ok, purely for fun, let's compare the all-time single-season leaders in (low) Int% (from Pro Football Reference):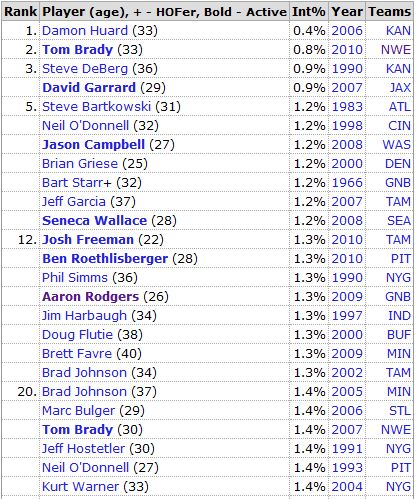 With the all-time leaders for most INT thrown (also from Pro Football Reference):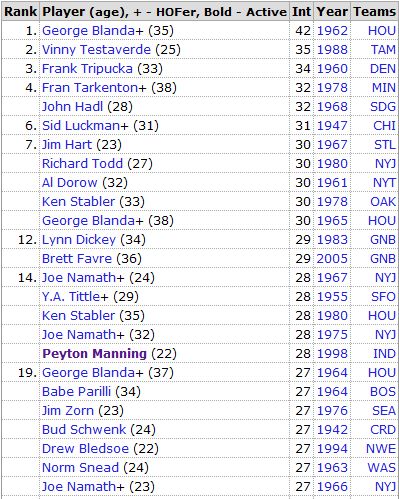 Not drawing any conclusions or doing any scientific comparisons, but both lists seem to have plenty of studs as well as plenty of duds. (Actually, when I first made this comparison a couple of years ago, the "Most" list had a much better resume than the "Least" list.  But since then, the 'good' list has added several quality new members.)